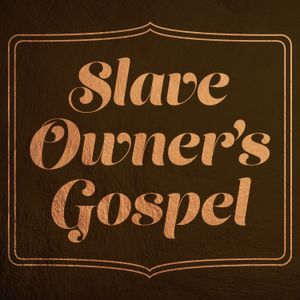 SLAVE OWNER'S GOSPEL: Listen and Watch the Music Video
"Slave Owner's Gospel" is a journey through the messy history of the American Church and racism, from the times of slavery to Jim Crow and the civil rights era, then into our present day, ending with a call to "let go of the slave owner's gospel" and begin a more hopeful future.  
In the song, I focus on heaven, and the afterlife, to show how the slippery slope of our beliefs can lead to white supremacy that seeks theological cover as it props up injustice.  
It's a song that weighs heavily on the heart, but, hopefully, will also inspire change.  
I want to start off by thanking you for even taking the time to listen and ponder the material. I'll be honest, I've never been more afraid to release a song into the public discourse. Racism in America is a minefield and the path through is not for me to lead. But I also can't sit and watch from the edges. Instead, I hope to support people of color, along with other oppressed communities, as they lead the way into a more just future. I hope that this song will be part of that support, but I also fear that I could do more harm than good.  
Why? Because the critique that "Slave Owner's Gospel" presents is not from an outside point of view. I grew up in the Baptist tradition. I've loved the Bible and theology for as long as I can remember and the "gospel" that I grew up with is one that I wholeheartedly championed. I believed that it was truly good news. It wasn't until I grew older that I began to see that my good news wasn't always accepted as good news by others. And if the gospel isn't good news to people on the margins, then it must not be the gospel.  
When I truly look at myself, I can see that the slave owner's gospel is my own history. It's why I chose to write the song from a first-person perspective, taking on the role of each preacher as they deliver their theological justifications for oppression.  
And when I accepted this as my history, I began to see a through-line from the slave owner's theology to the theology that I grew up believing. It may not appear blatantly racist today, but the potential for misuse and injustice still exists. And if that's true, we must find a way to let go of the slave owner's gospel once and for all.  
Song Credits:  
Jonathon Dewveall - Vocals, Guitar, Piano  
Jacob Briggs - Drums, Percussion  
Dave Coleman - Guitar, Bass, Keys  
Dita Rose - Background Vocals  
Thomas Rose - Background Vocals  
Melanie Dewveall - Background Vocals  
Written by: Jonathon Dewveall  
Produced by: Jonathan Dewveall and Dave Coleman  
Engineered and Mixed by: Dave Coleman  
Additional Engineering: Jacob Briggs  
Mastered by: Marcelo Pennell  
Video Credits:  
Directed and Animated by: Nathan Morrow  
Additional Background Color by: Skylar Wilson  
Creative Credits:  
Album Artwork by: Melanie Dewveall  
Photography by: Allison Gower