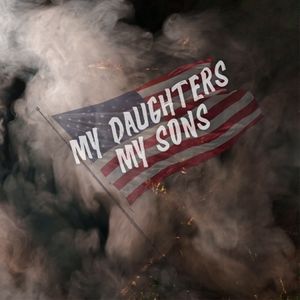 Waves of amber and a lack of majesty
Sinking into a shining sea of blood 
A sparking ember, I'll roll up my sleeves|
Shake the dust off of my feet and love 
Please remember why I've come 
Please remember what I've done 
All your politics, they are wed to apologies
Silver tongues tied to your greed and lies
But I'm an anthem, I'm a whole-hearted melody
Being sung to the mighty meek to rise 
Please remember why I've come
Please remember what I've done
Please remember, do not fall asleep my daughters
Do not fall asleep my sons 
Oh my daughters, Oh my sons
We will rise
Oh my daughters, Oh my sons
We will rise 
Be an anthem, be a whole-hearted melody
Sing out, oh you mighty meek and rise 
Please remember why I've come
Please remember what I've done
Please remember, do not fall asleep my daughters
Do not fall asleep my sons
I wrote My Daughters, My Sons back in 2011, shortly after the mass shooting and assassination attempt on former Congresswoman Gabby Giffords, as a reflection on our responses to political adversity in America. It's incredible to me that, a decade later, the sentiment behind this song continues to ring true while the rift between opposite sides grows larger every day. 
I want to believe that it doesn't have to be this way. Is it possible to put away our calls to arms and replace them with calls to love, compassion, understanding, and compromise? Can we stop seeing each other as an enemy? I certainly hope so, but it's getting harder and harder for this life-long idealist to keep believing. Still, even if I'm the only one, I hope to continue to "roll up my sleeves" and do the hard work of loving those around me - even when I don't agree with them.
Production Notes:
When I first started doing this monthly song thing, my good friend Bob Sutton reached out about working together on My Daughters, My Sons. I jumped at the opportunity. 
Melanie and I met Bob twelve years ago when he was running sound at one of our shows in Houston and we've been friends ever since. In fact, he recorded that show and it became our live album, Friday Night 9pm. After that night, Bob basically became an honorary member of the band, often joining us on stage whenever we played in Texas. 
The really fun part about this particular collaboration is that all I really did was record an acoustic and vocal track and Bob took over from there, working his own magic to make the version you're hearing here. I love the little surprises that arise in a musical partnership like this and it was fantastic getting to hear Bob's take on a song that I wrote.
After you've listened to My Daughters, My Sons, I highly encourage you to find some time to watch a documentary that Bob was a featured composer on, called Truly Texas Mexican. It's a beautiful film about the Native American roots of Texas Mexican culture, told through the lens of culinary tradition. I loved this film and think you might too. It's currently streaming on Amazon Prime.